Twice Loved Consignment Sales
Calvert County Seasonal Consignment Sale
Twice Loved Kids Consignment
Spring/Summer Sale
April 13th - April 16th 2023
Thursday, April 13, 2023
6:30AM – 8:00AM Sales Floor Set-Up
8:00AM – 5:00PM Registered Consignor Drop-Off
4:00PM – 6:00PM Vendor Set Up
5:00PM – 6:00PM Sales Floor Organization
6:00PM – 9:00PM PRIVATE PRE-SALE (Staggered Entrance Times)
6:00 – 9:00PM 12+Hour Volunteer Shop Facebook Contest Winners AND 3 Food Slot Volunteers
6:15 – 9:00PM 8 Hour Volunteer Shop AND 2 Food Slot Volunteers
6:30 – 9:00PM 4 Hour Volunteer Shop AND 1 Food Slot Volunteers
6:45 – 9:00PM Consignor Shop
7:00 – 9:00PM New Mom & Grandparent Presale Shop – $10 Cash Entrance Fee at the door (Includes 2 Passes)
Friday, April 14, 2023
8:00AM-11:00AM PRIVATE PRE-SALE (Staggered Entrance Times)
8:00AM – 11:00AM New Mom & Grandparent Presale Shop – $10 Cash Entrance Fee at the door (Includes 2 Passes)
8:30AM – 11:00AM Heroes Shop = Military, Police, Fire, Rescue, Teachers, Hospital Staff (FREE to enter with ID)
9:30AM – 11:00AM Advance Pre-Sale $10 Cash Entry Fee at the door
11AM – 8PM PUBLIC SALE OPENING DAY – FREE admission, please bring a non-perishable pantry item.
Saturday, April 15, 2023
8:00AM – 3:00PM Public Sale 25% off on items marked "DISCOUNT – YES"
2:00PM – 3:00PM Private 50% Off Advanced Consignors & Volunteers Only
Sunday, April 16, 2023
1:00PM – 2:30PM Public Sale – 50% off on items marked "DISCOUNT – YES"
2:30PM – 3:15PM Pack Up Crew Organization
3:15pm – 4:00pm Public "Dollar Dash" for Charity Dollar Dash Rules: Anything that is marked "D" is for sale to purchase for $1 (CASH Sales ONLY) **Please bring your own shopping bags and/or bins for the Dollar Dash**
4:00PM – 5:00PM Pack Up Crew
5:00PM – 6:00PM UNSOLD Consignor inventory pick-up** *ALL consignors (including VIP MOMs) will be responsible for gathering all of their unsold/non-donated items at the end of the sale during pick up hours. We will have rolling racks designated for pick up (but are not guaranteed to be vacant, so please be prepared). Consignors must bring their own bags or bins to place their items in. After consignors have gathered their items, a volunteer will help check out consignors.*
**Any Unsold Consignor Inventory Not Picked Up which is not marked as donate will be charged a $25 disposal fee. Fee will be deducted from consignors sale check.
**Please speak with Michelle or Kristy prior to Sunday if you have an issue that cannot be avoided during designated pick-up time and we will do our best to try and make other arrangements.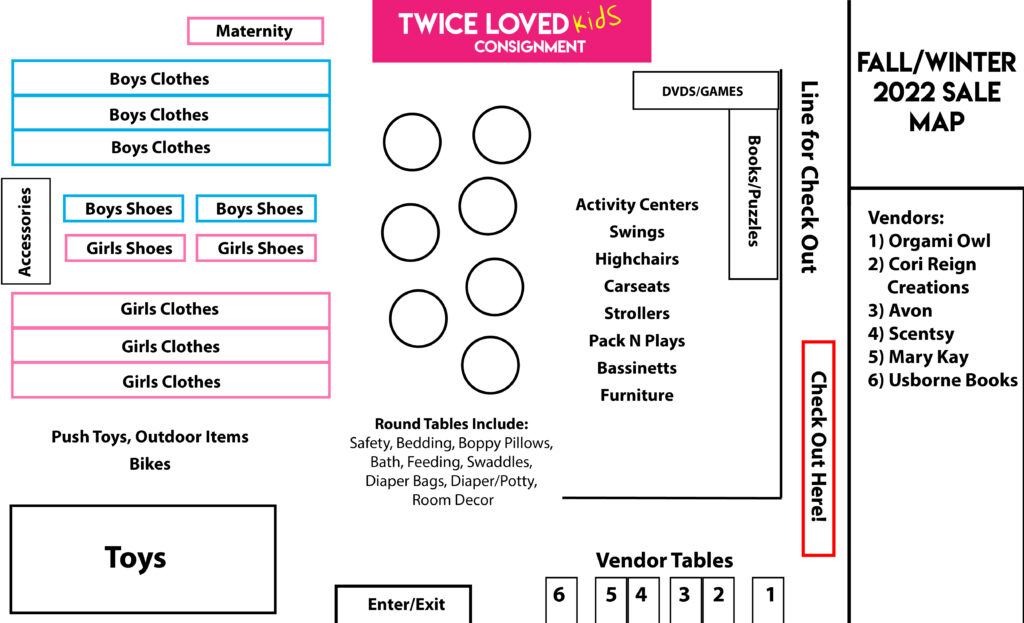 NEW!! Twice Loved Teen-Adult Consignment
Spring/Summer Sale
May 18th - May 21st 2023
St. John of Vianney Family Life Center
105 Vianney Lane, Prince Frederick, MD 20678